There's a lot of apps out there that claim to be easy.
I've tried them all and nearly lost my temper on many of them.
Okay, that's easy to do in all fairness; I'm a redhead. But…
I'm taking the guess work out for you and giving you my Top 10 favorite apps to help with Instagram and making:
videos
stories
highlights
graphics
Canva is my #1 go to for apps and web for any graphic design.
They have truly perfected every aspect of design to make it easy for beginners and expert alike. 99% of my own designs from Directly Social come from Canva.
Recently, their mobile app has gotten insanely good too. And I highly encourage you to get the pro account (I believe around $12/month) because of all the branding and extra features it has. But they do have an amazing free account as well. And the access to stock photos at your fingertips is unmatched.
#2 Pic Tap Go
I love Pic Tap Go for all my Instagram filters. If you've taken Directly Social's Instagram Trainings, you know the importance of those filters and the layout of your Instagram grid. Pic Tap Go is the easiest and most functional app I've found for those filters. My friend Melanie shared this with me many moons ago.
#3 Hash Me
The Hash Me app is great for generating hashtags. You type in a word and it generates a bunch of hashtags you can copy/paste into your post. You do have to delete their brand hashtag when you copy it on the free version, but that's no biggie!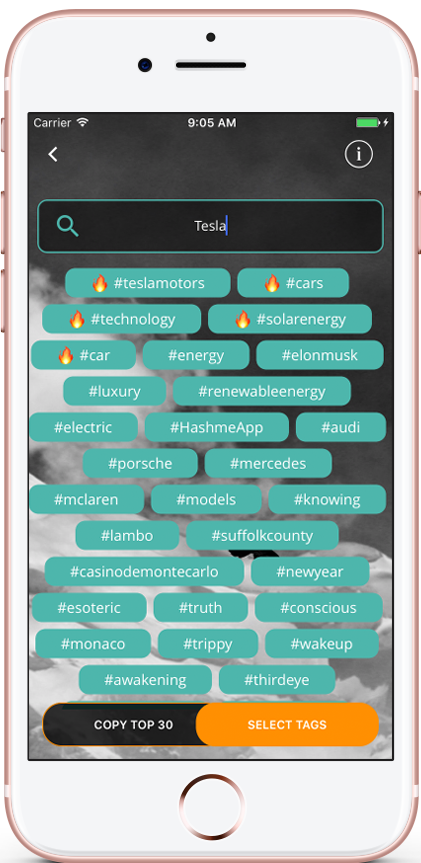 #4 Word Swag
I've been using Word Swag for as long as I can remember. My favorite thing about it is how it generates quotes into different formats. You can easily post a great looking quote in seconds. It's a painless $4.99 and worth every penny for that one time fee.
#5 Unfold
Unfold is $19.99 a year, but I've found it to be a great place for fresh new stories templates for Instagram & Facebook. I like the diversity it offers. Again, if you want great and free, my go to is always Canva.
But this one is stepping out and adventuring a little. I like it because there's no guesswork. It's super easy to use.
#6 Cut Story
Cut Story is a fun app. Let's say you make a video that's a couple minutes long. Cut Story will chop it into 15 second intervals and post to your story like a mini marathon. It's clever and fun to use. And…easy. And it's a great way to switch things up a bit and have some fun with your stories by…telling a little story 😉
#7 Over
Over is an insanely useful app for fun videos and graphics for your Instagram feed or stories. Their base of easy to use templates is unreal. Easy to use and great designs is all I need to make my own designs come to life.
#8 Ripl
I have a love/hate relationship with Ripl. It"s too expensive in my opinion. But i like how easy it is to use. It's $9.99 a month if you pay annual or $14.99 for monthly.
Right now, I don't have it. Because I've become much better at learning and creating things on much less expensive apps (that are better in my opinion). But if you're just beginning, it could be a good one to learn on if you can get past the expense of it.
I'd rather pay for the Canva pro account than this one, 10x over….but…it's still an okay app.
#9 Story Swag
Story Swag is just like Word Swag but gives animation to your stories and graphics. Now, it costs $4.99 a month but has a free 7 day trial.
I highly suggest it if you're trying to up your stories game. But only if you're committed. I'm not into throwing away money. But I am into paying for services that work and make my job easier.
#10 Animoto
Animoto is one of my all time favorite video apps. I use it mostly on the web version, but their app has recently been upgraded and made so easy to use.
I actually taught my son to use animoto for videos on Instagram too. He helps run a Christian basketball camp for kids and he makes some great videos now with Animoto.
The paid version is very pricey. But if you don't mind their logo, you can play with it all day long on the free version. This is one business expense I go overboard on because I LOVE Animoto and use it for so many videos all year. The templates and ease of use on desktop are phenomenal and well worth my $$$ to make my videos look great.
FOLLOW our Facebook Business Page
JOIN our Facebook community.
SUBSCRIBE to our YouTube channel
FOLLOW us on Pinterest
Melissa Fietsam @Directly Social
www.directlysocialtraining.com